The Sandman Will Keep You Awake - The Loop
Play Sound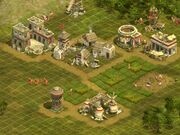 Tile is a unit of length used in Rise of Nations to determine distances, building space, attack ranges, and the like. Combat Range and Line of Sight are given as numbers of tiles, and other stats like movement speed or unit spacing are measured by tiles as well. In addition, the placement of Buildings, stationed Merchants, Resources, Roads, and map features are locked to the tile grid.
As tiles are essentially just a necessary measurement unit for the game engine to work with, tiles in regular gameplay are invisible to the player, and of little cornern, except if effective use of building space is a particular priority. Farms are a good way to determine tile measurement, as they are made up of 4×4 tiles, in turn divided into smaller square plots, which coincide with the invisible tiles, and quite visible in most cases.
Other structures might serve as reference objects, too:
Roads are always 1 tile wide.
Tree spacing in forests is also 2 tiles.
Cities are 6 tiles wide (without surrounding roads).
Tiles are also called tile coordinates (TCoord) within the game files and TX and TY in the Scenario Editor. Futhermore, there are world coordinates (WCoord), with 4 tiles being 1 world coordinate. World coordinates are using in the game's Scenario Editor to place things like forests, rock patches and rare resources.
Examples
[
]