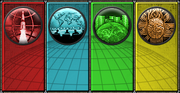 "
I think we agree, the past is over.
- George W. Bush
"
Future Technology is the final technology that can be researched in the Library, which is only available in the

Information Age once all seven

Military technologies,

Civic technologies,

Commerce technologies and

Science technologies are researched. The four Future Technologies are:
Although all four Future Technologies are incredibly useful, they are also very expensive, especially in

Knowledge - their costs increase as the player researches more future tech. Adding to their cost, they all take a very long time to research, unless the player controls the Super Collider. During this time, enemies will make Libraries a very high priority target in order to shut down research.